As a Birthday surprise (it was on the 3rd) my boyf took me away for a few days to Hebden Bridge, one of my favourite places in the UK. What a lucky girl I am indeed. He whisked me off on New Year's Eve to stay in the gorgeous Croft Mill apartments and enjoy the wet and windy delights of Yorkshire. I must say, this is a delightful way to begin the year.
After the long drive up to deepest darkest tup North, I was pleasantly surprised to find the most awesome self-catering apartment that was all ours for 3 nights! And we had been upgraded, hoorah. The place was filled with yummy goodies, there was Sky tv (cue LOTS of music telly), free wifi, a fully equipped kitchen and it was the cleanest place I have ever stayed. It was wonderful.
I spent the first few hours running around the apartment. I was so excited to have some space to ourselves, to dance like a loon to music videos, to drink the most delicious tea ever (thank you Taylors) and sample the best ever crisps (hello Hendersons Relish). And we had yet to go on our date yet. Soon enough, we dolled up and ventured across to the Thai restaurant where we enjoyed a long leisurely meal of spicy food and wine.
The next morning we were greeted with yet another thoughtful surprise – the Croft Mill folk left us a basket of fresh croissants just inside our door. We pottered about in our jimjams and enjoyed a breakfast of tea from the pot with croissants and local honey. Oh, it is the simple pleasures that are the best.
That evening the lovely Lisa and her boyf came over to our apartment and I cooked us up a delicious Roast Duck with all the trimmings. My boyf had stocked up our fridge with copious amounts of booze and proceeded to knock us up some amazing cocktails. Soon enough the silliness ensued and a never-ending game of Trivial Pursuit followed. I love dinner parties.

The following day I nursed quite the hangover but managed to stroll about town for a few hours to take in the sights and do some window shopping in all the awesome indie shops.
It was a perfectly relaxing breakaway and I am so lucky to have a boyf as lovely as mine.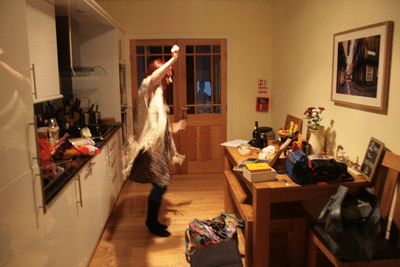 Happy New Year!